Automatic Blanket wash cloth from D-TEX NONWOVENS
Automatic Blanket wash cloth is a non woven and spunlaced fabric which has been especially developed to keep presses running effectively and efficiently. It has high absorbency and low linting qualities, removing inks and solvents from the blanket quickly and completely.
To optimize the cleaning process and reduce the number of downtimes, a low lint rate and high suction capacity are required.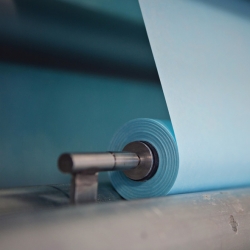 Highest quality raw materials
D-TEX NONWOVENS using the longer cellulose fibers, imported from Canada and SINOPEC polyester fiber. To ensure the stronger bonds with less propensity to tear under tension.
Advanced Spunlace Technology
D-TEX NONWOVENS is one of the few companies worldwide that have mastered liquid pulp jet and entangle with fibers. Liquid wood pulp mix thoroughly, jet and entangle with polyester. In view of the proprietary liquid pulp technology, our Auto blanket Wash Cloth is dust-free and durable performance. meets the special requirements of the printing house and removes the ink and solvent from the rubber tube of the offset press.

A complete range of products for the optimal cleaning of printing presses. Automatic Blanket wash cloth delivering superior cleaning, proven to have the best performance in the industry.
We can produce jumbo rolls and mini rolls, and can also be flexibly customized according to customer needs.
Jumbo rolls: 500 meters in length, made in standard widths to suit press model. Available for the following presses: Heidelberg, Man Roland, Kba, Planeta, Komori, etc.
Mini rolls: Made in standard size per press model. Supplied in 6, 8 & 11 meters lengths, suitable for most popular press makes, Heidelberg and Komori.
1.    BETTER ABSORBENCY AND CLEANING POWER
2.  SOFT SURFACE, LINT FREE AND NO SCRATCH TO RUBBER BLANKETS.
3.  REMOVAL INKS AND SOLVENTS FROM THE BLANKET QUICKLY AND COMPLETELY.
4.  AVAILABLE IN ROLLS OF 500 METERS IN ANY WIDTHS